iOS Restrictions PIN recovery
Do you have an iPhone, iPad, or iPod that you've set Restrictions on… and forgot the restrictions passcode? Never fear — CareTech can help. We have successfully brute-forced the restrictions PIN for several iPhones now, much to the relief of those who'd forgotten the PIN they set; and can easily do the same for you if you need such a service.
To recover a forgotten iPhone or iPad Restrictions passcode, there's just a little bit of work needed on your end. These steps can be done on a Mac or Windows computer.
Ensure iTunes is installed on your computer; plug in your iOS device with a USB cable, and using iTunes, take a device backup. Make sure you don't enable the backup encryption option.
Use a tool such as iTunes Backup Extractor to recover the com.apple.restrictionspassword.plist file from the backup. This is found at the following path:
Home/ Library / Preferences / com.apple.restrictionspassword.plist.
Note: on older versions of iOS, the top level folder was "Home Domain" instead of "Home.") Save this file to some folder on your computer so you know where it is.
Send us the info contained in that plist file. You can do this one of two ways:

Email this plist file to us (contact us to establish communication); or,
Open the file using a text editor (Notepad if using Windows, or TextEdit if using Mac), and copy / paste its contents into our Contact form. All we need is the Hash and Salt from that file.
Screenshots
In the left pane of iPhone Backup Extractor, you can view the iTunes backups stored on your computer. Select the one with the date and time corresponding to the backup you took earlier; and click the "Expert Mode" tab (outlined in red below). From there, expand Home, then Library; scroll down and expand Preferences.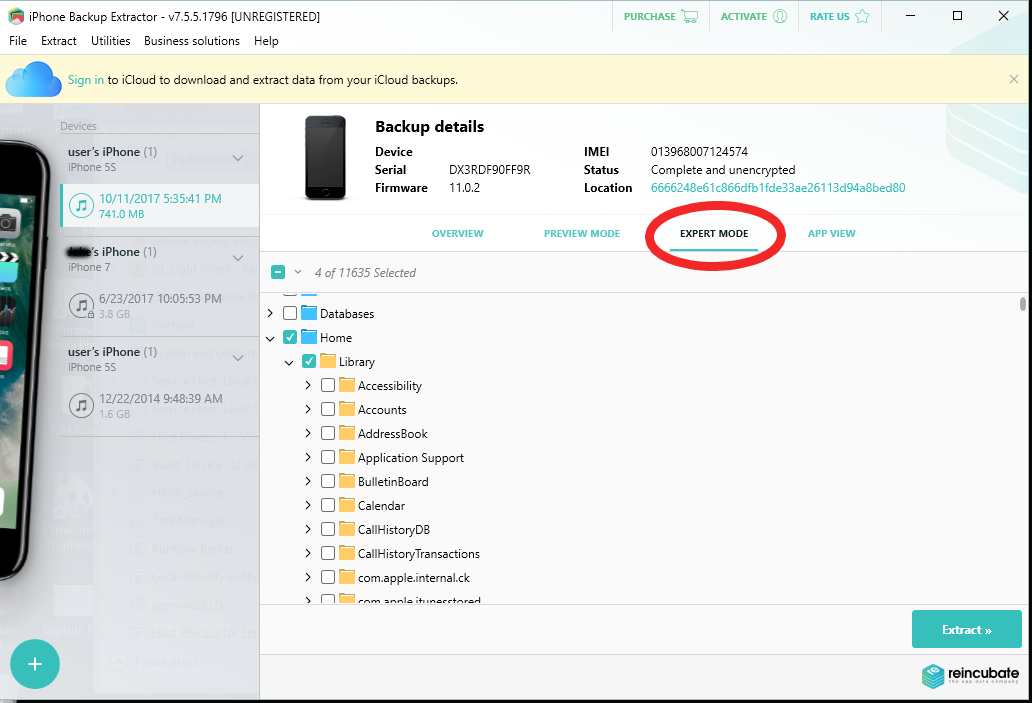 Here's the file we need, com.apple.restrictionspassword.plist. Select it, then click the Extract button on the lower right.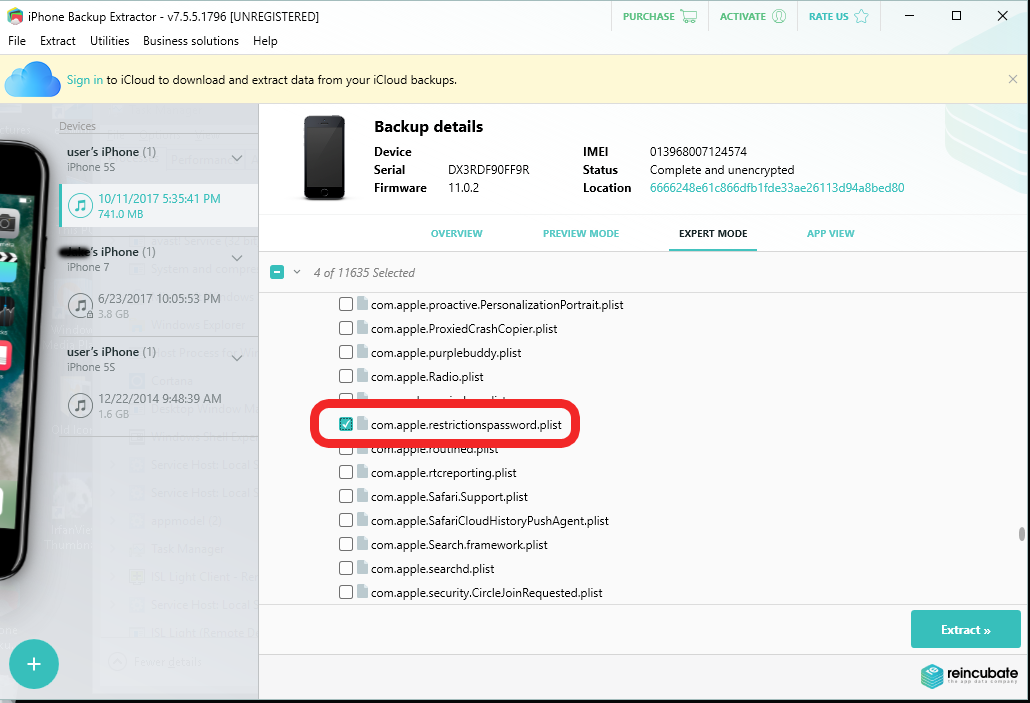 You will then be asked to specify a location to save the file. Save it anywhere you please; the Desktop is a handy place to find it later. Note that in the location you extract to, there'll be a folder called Home; within that folder, there'll be a folder called Library; and so forth. Keep drilling down through the folders until you get to the last one, which will contain the plist file.
Folder structure visible in the address bar of Windows Explorer in this screenshot:

For those interested, what we do is run the information in that file through password cracking software that simply runs through all number combinations from 0000 to 9999, calculating the hash for each number to see if it matches what is contained in the file; once the match is found, it stops searching and displays the result.
There are more tools that can extract files from iTunes backups, so if you don't like what's recommended above, do a search of your own and take your pick. If you need help finding and extracting the appropriate file from your iTunes backup, we can assist with that via remote support. Contact us if you require help.